Cordthulhu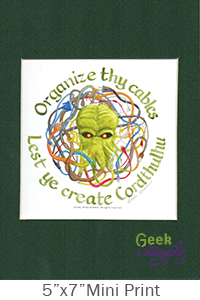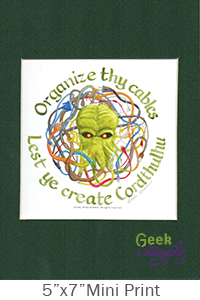 Cordthulhu
Do you wish everyone was as punctilious about cable organization as you are? Or are you trying to be better about it yourself? Put the fear of R'lyeh and cord chaos into all by displaying this print prominently. Remember, Cordthulhu is not dead, he is merely sleeping.
Full Size
Inner dimensions: 12" x 13"
Matted dimensions: 20" x 16", black mat
Ships flat.
Each print is a limited edition of 500, hand-numbered and signed by the artist.
Now also available in Mini!
To celebrate the one year anniversary of Cordthulhu's launch, we are making Cordthulhu available as a Miniprint!
Matted Dimensions: 5" x 7", green mat
Ships flat.
Miniprints are not limited editions and are not numbered or signed by hand.